She Did WHAT!?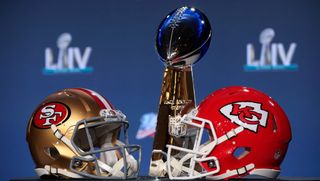 Dear Commissioner Goodell:
I realize this letter will probably never get to your desk, but I am writing it anyway, regardless of its eventual deposit in your trash, more for the sake of my conscience than in hopes that you'll read it.
I'm wondering how a commissioner of a professional sports league who fines players for wearing nonconforming shoes in games, and generally serves as the final arbitrator of player conduct would not be aware of the content and presentation of the half-time show for the biggest game (in every respect) of the year for your sport? In a league that reports to "take a stand" against violence against women, and punishes perpetrators under your purveyance, how is it that the much promoted and hyped half-time show would dehumanize women into sex objects?
No doubt, there is a large portion of the viewing audience of males who found the titillation stimulating. I'm sure there are also many who applaud the effort to "push the envelope" with what I consider inappropriate and offensive content. Content which many hundreds of thousands of minors will have viewed from last night's performance. I can imagine that most of your advertisers – from which you derive a significant income, given the astronomical cost of ads per minute – are much more concerned with the number of people who were reached with their ads during the game than they are with the content of the half-time show. I have a strong impression that Pepsi doesn't really care much about what I think is or is not appropriate. I get all that.
But for me and the millions of viewers who share my basic values, what I don't get is how the nearly-pornographic nature of the pole-dancing and grinding that dominated the half-time show came of as "just hip entertainment." For me and others who share my value system, it was offensive. Not just in poor taste. Offensive. Not just unfortunately inappropriate. Offensive. Not just something I don't like because of my personal tastes. Offensive.
I understand the intent of the First Amendment. It gives equal permission to the NFL and Pepsi to present an inappropriate and offensive half-hour of gentleman's club entertainment to their world-wide audience, and it permits players to share the role that their faith in God has played in their Super Bowl success. I'm grateful for this right.
I'm not writing to you with regard to rights. I'm writing in regard to judgement.
No other professional sport enjoys the exceedingly broad platform the NFL has built. After two years of dramatic decline, your numbers for this year and Super Bowl LIV are impressive. From this huge and expanding platform, you and your league have promoted some worthy projects and causes. Players representing the NFL have engaged in impressive personal generosity, and have used the platform their notoriety has given them to promote this spirit of generosity in others. This is good. Thank you for permitting them to do these things.
After an epidemic of domestic violence and sexual exploitation by NFL players, you and the league began a campaign, joined by other athletes of note, and all of the major networks to promote the dignity of women and condemn their victimization. This is good, also.
But I return to a comment I made in my opening remarks. How incongruent and antithetical to exploit and sexualize women, albeit with the full consent of the women participating, as the sum and substance of the celebrated half-time show for the Super Bowl. The children's choir did not legitimize this. If anything, it created an even greater incongruency.
You may dismiss my comments because you believe I am a fundamentalist Christian radical snake-handler. I am not. I'm an NFL viewer and fan who was thrilled with Sunday night's game and outcome. Dismiss me if you will, but I am one of millions who were embarrassed and offended Sunday night. I'm a father and grandfather who was embarrassed by the sexual content of what you permitted in the half-time presentation. I am grieved that many thousands of children the ages of my grand children saw in compelling fashion what was served up.
More than a decade ago, the "Wardrobe Malfunction" set commentary ablaze. My memory is that it awakened the Commissioner's Office to the value of monitoring the content of Super Bowl Half-Time Shows.
I can only hope that this year's presentation and the backlash of negative commentary you're receiving will prompt a similar wake-up. Please consider the stewardship of your role, and shelve half-time pole dancing and grinding, no matter how hip and cutting-edge they may be. Please get back to the business of football.
Sincerely,
Steve Thomas